Make Time for What Truly Matters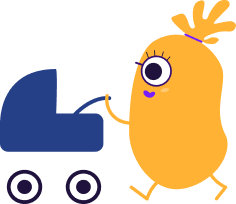 Communication
Share information with parents and each other seamlessly.
Instant Messaging
Maximize communication efficiency at your childcare center with Parent's instant Messaging Solution. Parents, owners and staff can communicate with each other instantly. Users can choose who they want to communicate with, as well as use filters for chats.
Daily News
Enjoy smoother collaboration and engagement with Parent's Newsfeed. Authorized users including staff and parents post, share, comment and react to content such as observations, assessments, scheduled events, holiday feedback notes, inspirations, closing days and more.
Calendar
Using the calendar, admins can manage and get a full overview of scheduled items like events, weekly planning, room schedules, holiday feedback, holidays, closing days, meal planning, and more. Authorized staff can manage scheduled events, and enable parents to input their child's attendance, check meal plans, events, and weekly schedules.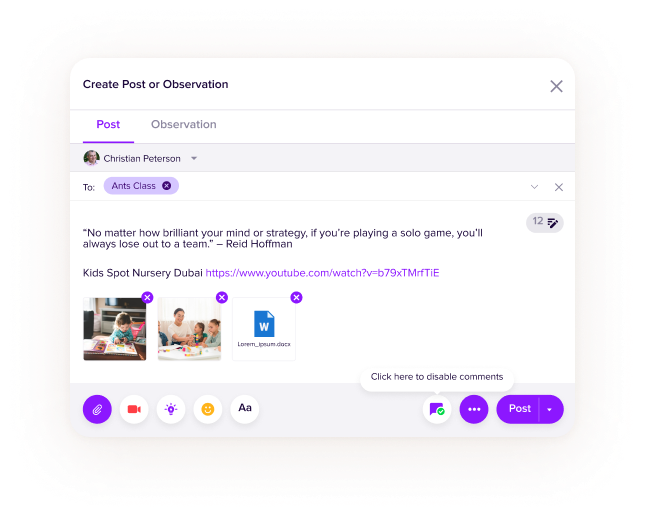 Paperwork
No more endless paperwork.
Room Planning
Increase the efficiency of your childcare center by quickly modifying the location of staff, children, and overviewing child-to-staff ratio on one single screen. Identify staffing shortages or excesses, manage rooms, and take immediate actions.
Room Overview
Maximize your management flexibility with Parent's Room Overview feature, allowing you to assign and manage staff and children throughout your organization's rooms. Each room comes with a set of settings including statuses, child-to-staff ratios, capacities and more.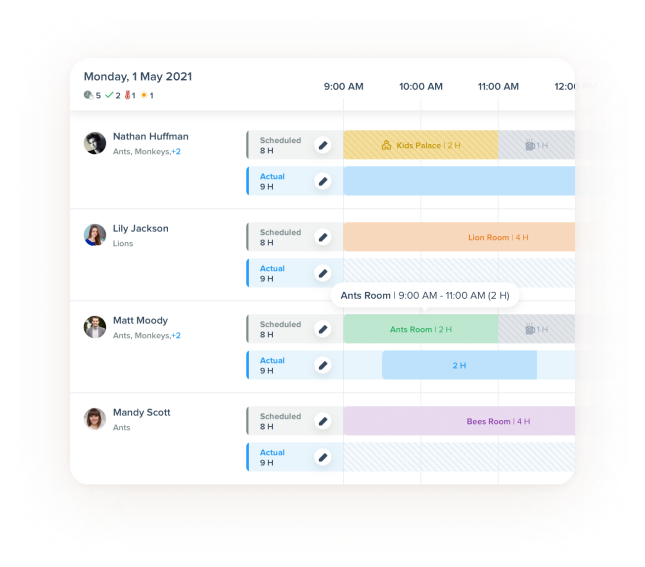 Staff Management
Cut down on time-consuming tasks with Parent's Staff Scheduling feature, allowing you to create repeatable and customizable schedules for each staff member with detailed room and working hour info.
Daily Reports
Streamline visibility with Parent's Daily Reports feature, allowing authorized users to access and generate daily activity reports for children throughout the day, accessible through each child's profile.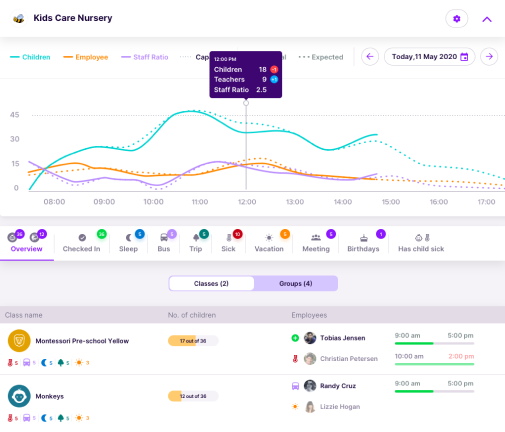 Inspirations Library
Diversify your center's activities with Parent's Inspirations Library module, allowing educators to gain inspiration from each other's approach to an activity, share experiences with and apply comments for more varied activities.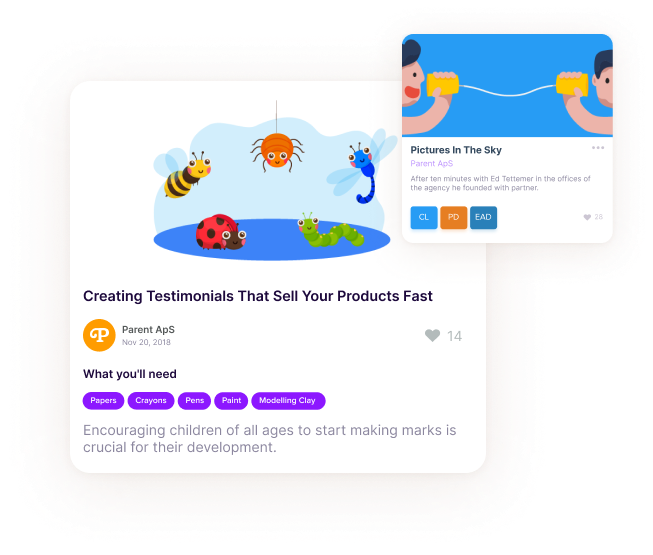 Child Progress
Keep track of milestones and development in a single, neat overview.
Child Development
Track child development and growth with the observations feature. Choose from a wide array of curriculums in order to track each individual child's progress and keep parents up to date on their child's day-to-day improvements. Create easy print-outs of each child's journey for future reference and later education phases.
Curriculums
Enjoy a range of diverse early childhood curriculums with Parent with constantly updated materials and information. Parent offers multiple curriculums including EYO, ELDA, ELECT, HDLH, LPFO, ECEC, EYFS 2021 and FPKG. Each curriculum includes its own set of development criteria that Parent streamlines for consistent observation, assessment and future checking.
Early Years Foundation Stage (EYFS)
Enjoy the full potential of the UK's Early Years Foundation Stage curriculum on Parent, giving children from 0 to 48 months valuable education and development in seven key areas such as communication and language. Get the most out of EYFS by setting goals for children to achieve along their journey, assessing children based on age; setting user friendly observations, assessments, two-year checks and much more. This is one of many curriculums supported by Parent.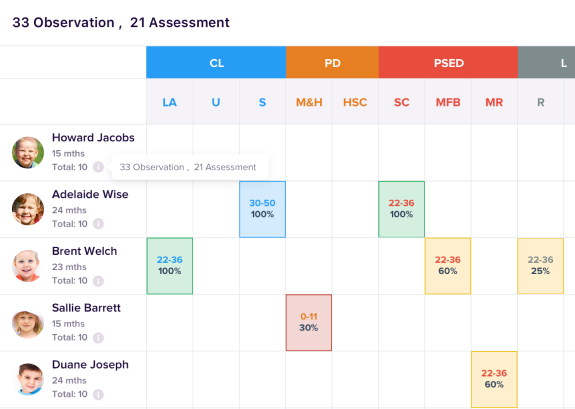 Manage Your Finances
Automate and streamline billing and invoicing – no more endless paperwork.
Product Management
Create individual attendance plans and manage all sessions, items, charges and packages on one screen. Include extra supplementary info such as tax types, discount types and pricing groups.
Customize Packages
Easily manage individual child payment plans with Parent's Customize Packages feature. Create individual child plans with custom durations, pricing, taxes and discounts. Respond to enquiries and wait lists per your center's availability. Make ad-hoc additions, receive and review requests for sessions & purchases, set up sessions and schedule billing changes in minutes.
Schedule Periodic Plans
Eliminate hassle and human error with Parent's Schedule Periodic Plans feature, allowing authorized users to create daily, weekly, monthly, quarterly or annual plans for each child; schedule due dates and automate charges for different fees; Send invoices to beneficiaries in one go and send regular automated reminders for payments in app or via mail
Apply for Subsidies
Subsidies allow admins to add subsidy related inputs manually, or create an algorithm for automatic calculation. They can easily separate individual funding requests and the necessary resources per child, and get a quick overview of pending, paid, or sent invoices.
Reporting
Share and update reports easily. Why bother with manual lists and updating when you have Parent?
Enrollment Reports
Create a simple overview of reports. Using the Enrollment Reports feature, users can see new updates added to the Wait List. Enrollment reports allow users to filter reporting results and create a printable overview
Attendance Reports
Maximize reporting efficiency with Parent's Children Attendance Reports feature, allowing authorized users to view, add, edit, delete and export child attendance reports. These reports include statuses such as vacations, sick leaves, missing holiday feedback responses and closing days
Child Attendance
Eliminate the hassle of attendance tracking with Parent's Child Attendance feature, allowing authorized users to more efficiently manage check-ins, check-outs, vacations, sick leaves, closing days and scheduled attendances with Parent's Child Attendance feature. Use filters to find specific child attendance data and export child attendance reports in both Excel and PDF formats.
Real-Time Reports
Streamline your childcare center's operations with Parent's Reports feature, allowing you to clearly and concisely view child attendance data as well as create dynamic lists with different criteria such as allergies, contact information and more.
Dashboard
Increase institution-wide engagement and operations efficiency with Parent's dashboard, allowing you to manage each room and group easily, as well as add statuses; manage check ins and check outs; view individual profiles; add posts with media; send messages and more.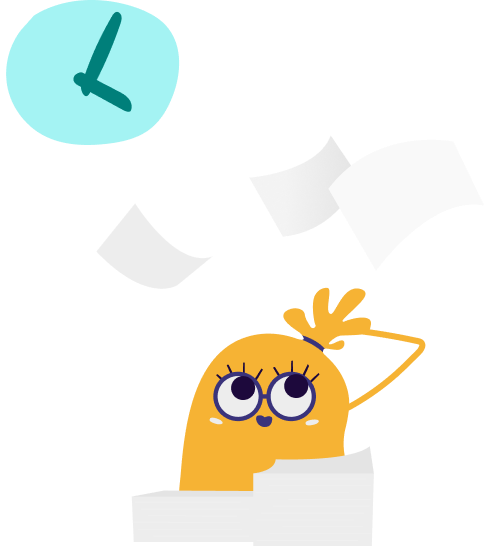 Other features
Check out all the other features of Parent. It's easy, intuitive, and always getting even better!