Be There for Them, Wherever and Whenever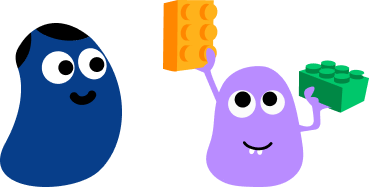 Communication
Stay connected to your child, wherever and whenever.
Instant Messaging
No need to wait for your child's drop-off or pick up to talk to a teacher. Easily and instantly communicate with teachers, parents and management.
News and Updates
Stay updated on your child's activities as well as news related to the daycare. Users can comment and react to content such as observations, assessments, scheduled events, holiday feedback notes, inspirations, closing days and more.
Calendar
Access the calendar to get an overview of scheduled items like events, holidays, closing days, meal planning and more. When enabled, you can enter your child's attendance, check their meal plans, events and their weekly schedules.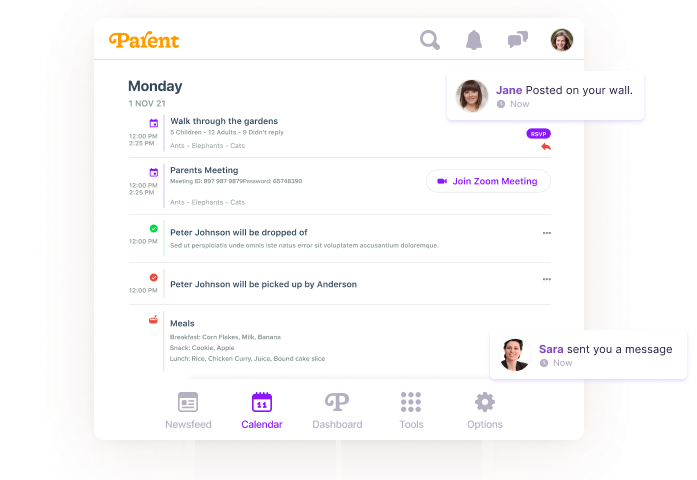 Stay Informed at All Times
Tired of getting paper notes? So are we. With Parent, it's all right there in the app.
Daily Reports
At the end of each day, receive a detailed report of your child's daily activities, meals, sleep time, bathroom visits and mood with a detailed report. Stay informed of pick-up and drop-off times, trips, and check in information at all times.
Incident Reporting
When an accident happens while your child is at daycare, you'd naturally want to know. Using Parent's Ouch status on the Dashboard, an admin or teacher can report a description of the accident and link it to a child's profile, so you get updated immediately if an incident occurs at the nursery.
Food Plan
Stay aware of your child's nutrition and get updates on their daily and weekly menu. Staff can create meal plans and plan ahead more efficiently while you stay updated every step of the way.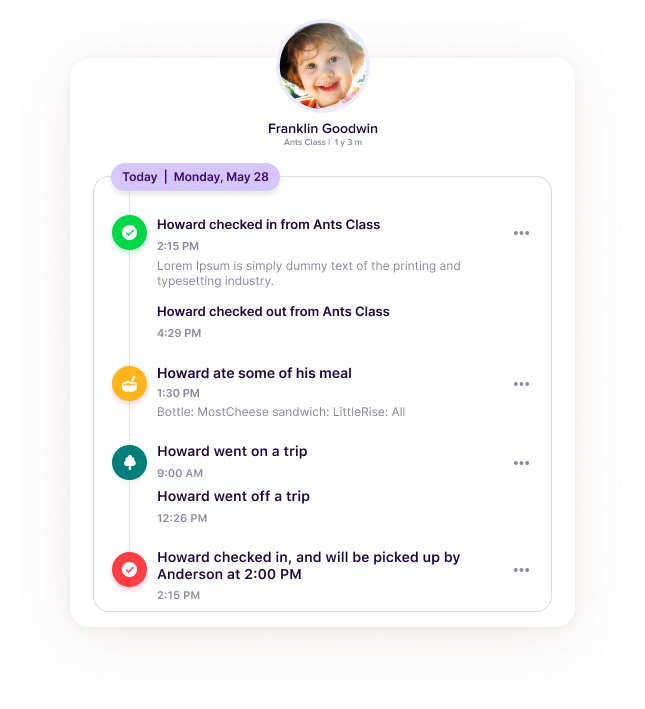 Other features
Check out Parent's many efficient child care management features. Easy, intuitive, and always improving!